About Us
One of the most important objectives in education is to prepare students for their future careers. Over the last two decades, coding and programming have emerged as some of the most desirable skills to prepare students for their future university studies and to secure a job.

The Coding hub Ltd is a Mauritian company set up by experts in education and developers to help the local students to learn coding. The company operates under a franchise agreement with the established Canadian coding Academy, EduCode™.

EduCode™ Academy's mission is to empower the next generation of innovators by teaching them how to code. Online, self-directed coding courses blend cinematic storytelling with tutorial videos and microlearning in bite-sized, real-world projects. We strive to provide a truly immersive and enjoyable environment to make learning how to code easy and fun. Just like learning a second language, we believe that it is crucial to start learning computer science as early as possible.

EduCode™'s animated video micro-lessons, interactive educational games and real-world projects allow every student to learn how to code.

As students progress through the projects, they also improve their teamwork skills by collaborating with their peers, and enhance their computational thinking and problem-solving abilities by experimenting with code and learning to solve problems on their own.

EduCode™'s curriculum covers some popular programming languages suitable as from 9 years old up to 18, such as JavaScript, HTML, CSS, and Python. EduCode™ allows them to get a glimpse of the computer code that hides behind their favorite games, and even to create their own video games, apps and websites.EduCode™ empowers students to a bright future by giving them the crucial programming skills needed to prepare them for university or in-demand programming jobs.

EduCode Academy is certified by the kidSAFE Seal Program. The kidSAFE Seal Program is an independent safety certification service and seal-of-approval program designed exclusively for children-friendly websites and technologies, including kid-targeted game sites, educational services, virtual worlds, social networks, mobile apps, tablet devices, and other similar interactive services and technologies. Click on the seal or go to www.kidsafeseal.com for more information.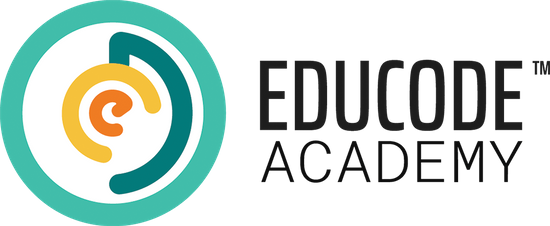 There are a variety of coding software programs that do it for you. Most of them combine several of the pedagogies we identified into a tailored online curriculum. However, we end up with the same question: Which one?

Let's put together a picture of The Ideal Coding Software:
It provides a self-directed curriculum that allows your students to learn how to code independently, without having to rely on you as the expert.

In order not to overwhelm your students, courses must break down topics into small units to facilitate microlearning.

Given the short attention spans of today's students, lessons and exercises should be gamified to capture and maintain engagement, while providing them with practical, real-world skills through project-based learning.

Any lesson must also present material in such a way that the student can readily relate it to their understanding of the world through contextual learning

.
EduCode Academy is certified by KidSafe Seal Program The kidSAFE Seal Program is an independent safety certification service and seal-of-approval program designed exclusively for children-friendly websites and technologies, including online game sites, educational services, virtual worlds, social networks, mobile apps, tablet devices, connected toys, and other similar online and interactive services.


Designed and intended for use by children, families, and/or schools





How to get started? Watch the video below...